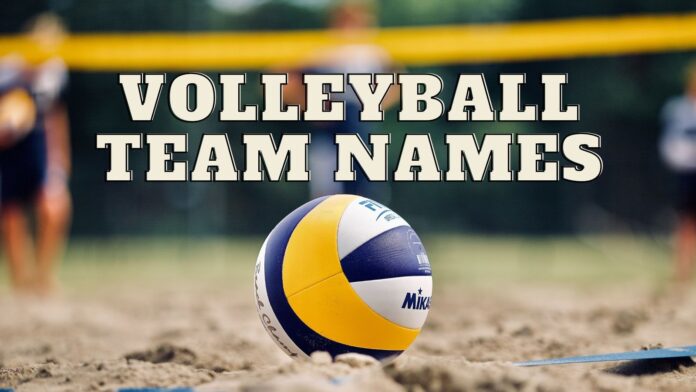 Choosing a name for your volleyball team can be a fun and challenging task. It's important to find a name that is appealing and easy to pronounce. With our comprehensive collection of names, we have made this decision much easier for you.
Whether you're looking for a funny, classic, or legendary name, we have got you covered. Our list includes a variety of options that will surely catch your attention. Selecting a name from these options will give your team a distinct identity and make them stand out.
We understand that choosing a name for a volleyball team is not an easy task. It can be even more difficult than naming a baby. However, we have simplified the process for you by providing a wide range of attractive and easy-to-pronounce names.
Each name on our list has been carefully selected to ensure its appeal to everyone. Whether you're going for a funny and light-hearted name or a more classic and legendary one, you will find suitable options here.
Having a good team name can make a significant impact on team morale and unity. It's an opportunity to showcase your creativity and create a sense of identity among team members. So, take your time and explore our collection of names to find the perfect fit for your volleyball team names.
Hitlist – Don't be on theirs.

Shockwaves – Will be felt when this team scores.

Hurricanes – Expect a storm.

Gosh – You'll be in awe.

Cougars – Perfect for a women's team.

Pandemonium – Bringing with them the end of the world.

Crossfire – The other team is going to be in trouble.

Sunburnt – And proud of it!

Sharks – Volleyball predators.

Bollywood – Wordplay on Bollywood.

Beaches – The nicest people you'll ever meet.

Shambles – They can't play at all.

Gravity – Do they believe in it?

AmazeBalls – They can make the ball do some amazing things.

Launchers – Known for their aggressive serves.

Rescheduled – Rescheduled to win!

Blazers – Just too cool.

Slammers – No other team hits the ball as hard as they do.

Sunfire – They play at their best when it's sunny.

Zoom – Faster than the speed of light.

Chargers – Always on the attack.

Hitting – Can't stop them from scoring.

Potatoes – They're a little round.

Xpress – Scoring at an impressive speed.

Renegades – They play by their own rules.

Disqualified – But still playing.

Showtime – The audience always gathers around to watch this team.

Panthers – For a team of lethal women.

Sandbags – They're ready to get beaten.

Aceholes – They're good, and they know it.

S*M*A*S*H – After the TV series of the same name.

Banned – For breaking too many rules.

Tsunami – An unstoppable wave.

Testicles – Why use silly puns on the word 'ball' or 'balls'?

Swarm – They'll overpower you.

Attackers – The other team's defense better be ready.

Sailors – They've spent a lot of time at the sea.

Dudes – Straight up dudes.

Internet – Who can beat the Internet?

Pain – The other team will need an ambulance.

Untouchables – The other team is not worthy of playing them.

Upperworld – In a totally different league.

Setsy – Hell yeah.

Foreplay – The best kind of play.

Domination – They don't win, they dominate.

Canceled – But still winning.

Flammable – If they win, they may catch fire.

Babes – Athletic and attractive women.

Fury – They're fuelled by rage.

Casablockya – Wordplay on the film Casablanca.

Puddles – The other team will be crying…

Forfeit – The other team will…

Winning – All the time.

Spikers – Their specialty is scoring.

Smashers – The opposition won't look the same after.

Fusion – This team is a fusion of all the right qualities a volleyball team needs.

Crush – The opposition will fall in love with this team.

Monsoon – Bringing a storm with them.

Airborne – They play best when they're in the air.

Bombers – Dropping bombs on the other team.

Chaos – The other team won't know what happened.

Seahawks – In reference to the Seattle Seahawks NFL team.

Blockbusters – You need to buy tickets to watch this team play.

Spinsters – Women who don't need men for anything.

Unstoppable – Don't even bother trying.

Alcoballics – Addicted to the ball.

Defaults – Their default setting is amazing.

Roofies – Can't help but hit the ceiling.

Roofers – Same as the above.

Speedos – Please don't wear speedos when playing volleyball…

Flames – Making the game more exciting.

Bye – Bye bye losers!

Dazzle – When they play, they shine.

Sweetness – The sweetest team out there.

Spartans – Volleyball warriors.

Postponed – Even when they're told they can't play, they find a way.

Twisters – They play with an unbelievable amount of flexibility.

Nitrate – For a team of chemists.

Volleybrawler – They don't like losing

Diggity – The best digs you'll ever see in volleyball.

Digz –Just like the above.

Wilson – After the ball in the film Castaway.

Mustangs – Wild at heart.

Dynomite – Simply explosive.

Shorties – You guessed it, they're short.

Ballerinas – They play with the grace of a ballerina.

Eclipse – So great they can even block the sun.

Waves – They play best when by the sea.

Supercalifragilisticexpialidocious – The longest one-word team name you could have.

Sandstorm – The sand around them will start to fly.

Sizzle – The team is going to burn.

Fireballs – When that ball passes over the net, it might as well be on fire.

Impact – They hit hard.

Velocity – Too fast for the other team to handle.

Tippers – They always manage to just get the ball over the net.

Ballers – It feels natural for them to have balls in their hands.

Spikaholics – Just can't help themselves.

Champions – Winning comes naturally to them.

Touched – By an angel.

Leapfrog – After the kid's electronics company.

Disqualified

Upperworld

Blockheads

Roofers

Mustangs

S*M*A*S*H

Bombers

Smashers

Chaos

Walk-on

Leapfrog

Sunfire

Fireballs

Hit-faced

Zoom

Digz

Storm

Defaults

Bye

Norfolk-in-Chance

Xpress

Dudes

Spikers

Blockbusters

Postponed

Chargers

Knee-B-O

Eclipse

Shambles

Rescheduled

Aces

Twisters

Hit-heads

Pandemonium

Swarm

Cancelled

gosh!

Blazers

Zjmesj

Hitlist

Volleybrawler

Hit-men

Flames

Crossfires

Forfeit

Southwind

All-Net

Touched!

Renegades